Home

Watch Regarding: Sivajothi Temple of Meditation (Museum) Annual Events 2015-2016!
Watch Regarding: Sivajothi Temple of Meditation (Museum) Annual Events 2016-2017!
Pay your Few Minutes for True Meditation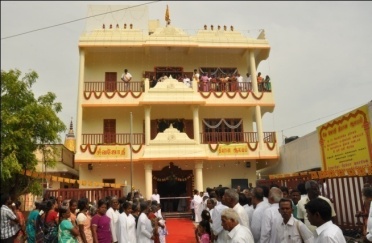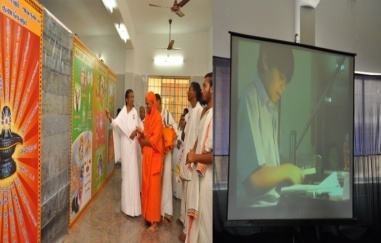 Sivajothi Temple of Meditation, Girivalam Road, Tiruvannamalai
The Sivajothi Temple of Meditation (Museum) offer spaces of silence and wisdom.
A 12 Jyotirlingam is a devotional object representing the Supreme soul 'God Shiva'. Jyotir Lingam thus means the The Radiant Sign of the Almighty Siva. Worship of shivalinga is considered the prime worship for the devotees of Lord shiva. Worship of all other forms is considered secondary. The significance of the shivalinga is that it is the resplendent light (flame) form of the Supreme - solidified to make the worship of It easier. It represents the real nature of God – tiny point of light. There are twelve traditional Jyotirlinga shrines in several places of India. That 12 Jothirlinga's dharsan can be done in SivaJothi Temple of Meditation, '12 in one place'.
The Raja yoga exhibition guides you on a journey within you, Understanding God and material world. We invite you to tour the space and experience peace and power with shows in video room.
Tiruvannamalai Collectorate Service News On 07.07.2020 - B.K. Uma Sister
Full Moon Day Service Video
Brahma kumaris Tiruvannamalai Service Report 2017-2018
Our Sivajothi Temple of Meditation has organized full moon day events and other, yearly more than 12,00000 visitors from all around the world, and is an award winning nonprofit organization. We invite you to experience the spiritual wisdom.
Who We Are?
Prajapitha Brahma Kumaris Ishwarya Vishwa Vidhaya (also called Brahma Kumaris) is an international non-governmental spiritual organisation with its headquarters located at Mount Abu, Rajasthan. We are a spiritual institution focused on self-transformation through spiritual education and reflective practices. We focus on self-transformation by re-discovery and strengthening human potential. This is done by providing a deep and clear understanding of self, God and Human existence.
The primary teaching at Brahma Kumaris is Raj yoga Meditation. Raj yoga meditation is one of the most effective forms of meditation to help replenish mental and emotional energy enabling individuals to create new attitudes and responses to life. It empowers individuals with clear spiritual understanding of self and connection with the supreme soul god father. We offer various other courses for dealing with issues such as stress, failure in relationship, Work-life in balance etc. All these courses are offered free of cost and are based on the principles of Raj yoga meditation.
Why Meditation?
Every human being in this world aspires for peace and happiness. Happiness and peace have less to do with gross objects. They refer to status. Moreover, there is another kind of experience, which is the highest and is independent of worldly object and senses. It is called Bliss.
Awards&Recognitions
Various establishment and institutions across the world have recognized the selfless service of Brahma Kumaris which has been working for world place and upliftment of humanity.
Read More
BRAHMAKUMARIS WEBSITE LINKS