About the Director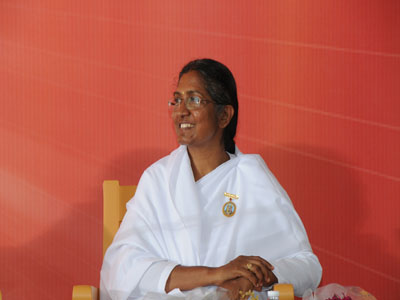 BRAHMA KUMARI SISTER UMA
Sister BK UMA was born in Bangalore city in the year 1962, she was brought up in a well to-do family. Presently she is leading a simple life in total dedication to the Brahma Kumaris Organisation for the service of Humanity in building the core Human values to lead a happy and healthy life.
She has undergone training at Brahma Kumaris Academy for a better world at Mount Abu, Rajasthan. After having completed her education in Pharmacy, she has also served in the Hospitals of villages in TamilNadu, India.
Since her early days, she had a concern for rendering service to mankind which made a driving force in her life. Because of her good command over many languages she has been inspiring various communities through her speech.
She has empowered the individuals to bring Spiritual Values into their lives and the youth in particular to develop greater self-esteem and their in-born skills, there by making them dynamic and loyal. Her equality in vision inspired many to live together in Harmony.
As she is well-known for her love, Determination, Humility, ability to maintain a good relationship and simplicity, she has turned into a great personality and efficient administrator.
She is one of the international speakers of the organization and has travelled through many States of India and across the globe in countries like Singapore, Malaysia, France, Germany, Spain, Britain, Italy, Kuwait and SriLanka in spreading the fragrance of Love and Peace.
Her lectures have empowered the public to be more enthusiastic and developed self-confidence.
She is a role model of an excellent organiser and coordinator for various programmes and projects like
Youth Campaign for Drug de-addiction in 1995.
Health care for mind and body in 1997.
Eshwar Anubhuthi Jyothir Lingam Rathayatra in 1999.
Spiritual Social Welfare Bus Exhibition in 2002.
At present, under her guidance and care many branches are running successfully in serving humanity. She is the Zonal Coordinator of Medical Wing of Rajyoga Meditation and Research Foundation.
During the last two decades she has been conducting lecture programmes in various public and private sector organisations and concerns.
Few Organizations where services are done
Manufacturing Plant
Cheyyar Sugar mill.
UCAL – Fuel System Limited, Pondicherry
Emami Limited, Pondicherry.
Nycer company Limited, Vadalore.
Neyveli Lignite Corporation
Amul SAGAR – Gujarat Co-operative Milk Marketing Federation Limited, Chennai.
L & T Limited, Chennai.
GRT Hotels
Indian oil Refineries, Assam
Indian oil Refineries, Numligarh
Hospitals
Government Hospital
Rangammal Hospital
Aravind Eye Hospital, CBE
Banks
State Bank
Co-operative Bank
Indian Bank
Institutions
Pre-primary Teacher Training Institute.
Insurance Companies
Government Departments
TNEB
TPTC, Tiruvannamalai.
TPTC, Training Centre, Villupuram.
Police In-Service.
RIRD
Nehru yuva Kendra
District court.
Collectorate.
Taluk Office.
ICF Training centre, Chennai.
S.E. Office.
Family Counseling Center, Tiruvannamalai.
Bar Association, Erode.
Karnataka Urban Water Supply and Drainage Board, Bangalore.
Combat Vehicle Research Development
Colleges
Vignesh Polytechnic College, Tiruvannamalai.
Shanmuga Industries College of Arts & Science, Tiruvannamalai.
Government Arts & Science College.
Tiruvalluvar college of Engineering, Vandavasi.
Idhaya college, Tiruvannamalai.
Kamalakshi Pandurangan College of Pharmacy, Tiruvannamalai.
Thanthai Hans roever Engineering College, Perambalur, Trichy.
Kongu Engineering College, Perunthurai.
Maharaja Engineering College, Tirupur.
Maharaja college for women(MBA students), Erode.
Rengammal Govt. Arts & Science College, Erode.
Sharada college for women, Karur
Sharada college for women, Tirunelveli.
Sharada Gangaram college, Pondicherry.
Indira Gandhi College, Pondicherry.
Christ College, Sandha vellore.
Saint Mary's college, Shillong.
Shankar Dev college, Shillong.
Saint Joseph's College, Trichy.
Sikkim Manipal University, Shillong.
Arunai B.Ed College, Tiruvannamalai
Aruneshar B.Ed College, Tiruvnannamalai.
Sri Venkatachalapathy B.Ed Women's College, Tiruvannamalai.
Kamban College of Arts & Science for Women
Kumaran Polytechnic College
Service Organizations
Quo-vadis Inter-religious Diologue Center.
NSS camps.
Brahma Kumaris Retreat Centre, Chennai.
Rotary Club.
Lion's club.
Schools
Jeeva Velu Higher Secondary School, Tiruvannamalai.
Divya Matriculation Hr. Sec. School, Chetpet.
Mount Saint Joseph Matric Hr. Sec. School, Tiruvannamalai.
Navodaya Central School, Pondicherry.
White Angels English Medium School, Pondicherry.
Govt. Girls Hr. Sec. School, Tiruvannamalai.
Sishya Matriculation Hr. Sec. School, Tiruvannamalai.
Trusts
TV & Radio Stations
Jaya TV
Raj TV
Jaya Plus
Sri Sankara
TTN (France)
Deepam(London)
AIR(Trichy)
AIR(Shillong)
Zee Tamil
Kalaignar TV
Few of the Training Seminars
Trusts
Power of Mind
Goal Setting
Leadership Qualities
Value-based Education (Training for Teachers)
Harmony in Relations
Communication Skills
Meditation for relaxation and healthy life.
Art of Living.
Time Management
Stress Management
Decision Making
Team Building
Effective Public Speaking
Happy Family
Health care for Mind & Body.
Karma Philosophy.
Enhancing memory power.
Positive thinking
Lectures on various topics
Self Managing Leadership
Value-based Education (Training for Teachers)
Harmony in Relations
Meditation for relaxation and healthy life.
Art of Living.
Time Management
Stress Management
Decision Making
Team Building
Happy Family
Health care for Mind & Body.
Karma Philosophy.
Enhancing memory power.
Positive thinking.
---
We would like to bring into limelight about some of her activities and which is as follows:
1998 – In "Mahayagnam Project" has been carried out. In this project she has insisted the human society to shed the vices within them and to practice moral values.
1999 – 2000 – During these years through "Chariot Yatra" She has traveled 2500 Km from Rameshwaram – Mount Abu and created awareness among the people for spirituality.
Classes in various institutions such as Engineering, Medical, ITI, Polytechnic, Teacher Training for more than 100 colleges within Tamil Nadu, trainings are being given for students / teachers for increasing their memory power, concentration. In addition to that, classes for Preexam counseling and overcoming exam fear also being given.
Health camps are being conducted to create awareness among the village people. 250 Drug De addiction camps have been conducted so far to create awareness among people. Especially Govt. Transport Department has attained benefits through this program. Also AIDS awareness camps also been conducted.
She has participated in NSS camps and by the way of her personality development and Spiritual classes she is bringing up the interest for social service among them.
Under the project called "Manifesto 2000" Awareness canvas have been carried out for one year in Schools, Colleges and several places where public gather in large such as temples, Bus stops etc., to improve the environment, to safeguard the nature, to establish a peaceful society by removing violence. Under this Manifesto pledge has been taken in writing from 1 lakh members.
"A Sound Mind in a Sound Body" – So a program called "Arogyam Ungal Kaiyil" (Health in your hands) has been conducted. Through these more than 2000 members has learnt several practices such as body exercises, Mediation, Thai chi (Chinese Method).
Through Raja Yoga Meditation camps she has brought more than 50,000 members out of Stress, Tension.
Several Seminars, Workshops has been conducted for Employees working in EB, Police Dept., Court campus, Banks and Government offices, Private institutions for Stress Management, Self Management Leadership, Harmony in Relationship, Life without Friction, How to avoid Tension and live happy etc., She has also given these classes for IAS officers in Chennai which is to be noted. In 1997 Tiruvanamalai Dist Collector Dr.Sivasuryan has released a book "Kanavai Ninavakkalam. In that book he has appreciated her service which is to be noted.
Live Telecast in All India Radio and Televisions are being given. Recently Live Telecasts in Raj TV – "Dinam Dinam Super Veedu", Jaya Plus – "Terinjikalaam Vaanga" She has answered for various questions for viewers. Also recorded program "Vazhvil Vasantham" in Jaya Plus also been telecasted.
Not only in India, but in various states of India and in foreign countries such as France, Germany, Italy, Spain, London, European Countries such as Switzerland and Arab countries such as Kuwait and Dubai, Singapore, Malaysia, Sri lanka, continuously service has been done. She is getting invitations from there for every year.
She has been recognized by an award "Saadanai Magalir Virudhu" in the year 2009 by Govt Arts and Science college of Tiruvanamalai for her service rendered in the field of Spirituality.
She has been recognized by an award "Best Spiritual Socialist Virudhu" by Exnora of Tiruvanamalai for her service rendered in the field of Spirituality.